Things are crazy at work, crazy at home and crazy with a 7 year old and a 17 month old. But new posts to come from now on! Promise!
We competed in another BBQ cook off over the weekend in Mandeville, Louisiana and had a blast. Despite the 75 MPH winds we managed to pull it together and finish 5th in Chicken, 2nd in Pulled Pork and 2nd in Ribeyes, but dead LAST in ribs. Not sure what happened there b/c we fisnished 1st in Ribs in March. Oh well, goes to show you never know.
Thanks to everyone for all their help. Julie, Pat, Lila, Sarge, Gloria and Cleveland and of course my teammate and sweetheart, Traci, I would never have chased this dream without her!!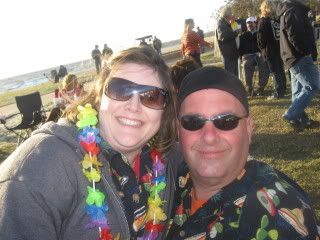 Oh did I mention we won Reserve Grand Champion (which means 2nd overall). We won about $300 and a huge trophy (pictures to come of it). Wow is all I can. We were on cloud nine!