Saturday evening some dude knocked on our door selling shrimp! He said he caught them earlier in the day out in the Gulf of Mexico and was trying to sell what he had left. He had several coolers full and was selling them for $3.00 a pound. They seemed fresh and pretty big and he tried to sell me a whole cooler full for $100, but I felt like that was too much shrimp and didn't want to deal with getting them cleaned and ready to be frozen. MISTAKE! I bought 20 pounds and should have bought the cooler full! They were nice shrimp and since we just bought a new freezer and a Foodsaver it sure would have been nice to have a freezer full of shrimp. Oh well, next time. So, Traci made a pesto sauce out of all the basil we had growing and we skewered them and put them on the Egg. Wow these were good!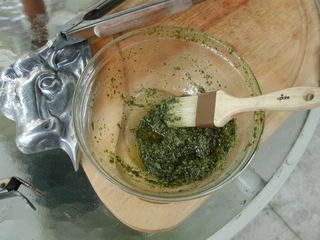 (I need a shrimp platter to go with my cow platter!)
Having grilled shrimp and salads for lunch this week!