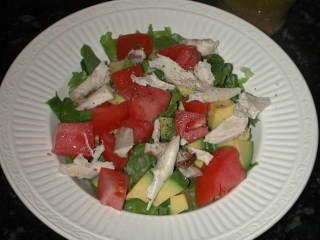 One night I grilled a chicken and then Traci made these incredible salads for dinner. Nothing better then a salad with avocado, tomato, grilled chicken and romaine lettuce. The chicken was "Egged" of course but first I "
spatchcocked
" it by cutting the backbone out of it and sort of butterflying it. This allows the chicken to cook a little more even and the breast doesn't dry out. The chicken was very moist and had a good flavor.
And HOT is not the word. New Orleans in August is miserable!!! I think we hit 100 for about ten days this month. Too hot.